Research – and the groundbreaking discoveries it enables – is at the core of Arts and Sciences. 
Our faculty undertake wide-ranging research across the humanities, social sciences, and natural sciences, and contribute expertise to numerous University-wide initiatives and collaborations. Within the Arts and Sciences, our centers and institutes also pursue leading-edge research that seeks to unlock new knowledge and achieve new levels of impact.
Through coursework, independent study, and assistantships, our students gain valuable research experience and meaningful opportunities to build their knowledge and skills.
Research Spotlight
Building on the collaborative culture long fostered at Columbia, the Quantum Initiative is combining interdisciplinary expertise in materials science, photonics, quantum theory, and more, while taking advantage of Columbia's unique position in the global hub of New York City. The Initiative seeks to develop novel quantum technologies that will open new frontiers into how we compute through complex problems, communicate with one another, and sense the world around us.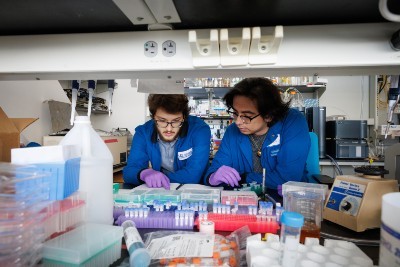 Undergraduate Research at Columbia
The Office of Undergraduate Research and Fellowships works closely with faculty and students to develop and design research and fellowship opportunities at every stage of a student's Columbia experience
The Undergraduate Research Opportunities Platform (UROP) acts as a central repository for Columbia undergraduates to search for research opportunities from across the University, and for mentors from all Schools to advertise research projects that welcome undergraduate participation or research programs targeting undergraduates.
A&S INTERDISCIPLINARY RESEARCH CENTERS AND INSTITUTES